Corporate Video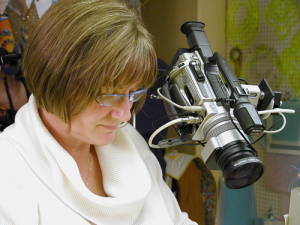 Video is a fantastic way to showcase your business and its products or services to your prospective customers and investors. It can be distributed in a variety of ways to reach different audience demographics, and it easily connects or reaches the viewer's emotions. The key is presenting your business, products, and services so that your audience receives a clear, concise message of what the product or service is and how they solve a need.
Kirk works with you to understand your purpose and objective for the video and helps clarify the end objective or outcome you are expecting with your investment in video assets. Kirk understands that this process may be confusing and overwhelming, which is why he will direct you through the decisions needed to produce a quality production that meets your objectives.
The expert team at Kirk Douglas Video Productions can produce videos for a wide range of businesses. No matter what industry you are in, we can come up with a polished and effective message. When creating corporate videos in MN, our goal is to make a production that will:
Demonstrate the biggest selling points of your products or services
Connect with the audience and address their needs
Present your company in a favorable way
Have a memorable, clear, and unique concept
Deliver a substantial return on your investment
We value the client's input greatly, and the team works closely with you throughout the entire process. This ensures that you get the video that meets your company's requirements, but never have to worry about the technical details. Scripts, talent, voiceovers, cameras, tripods, dollys, lights, green screen, microphones, teleprompter, camera cranes, operators, schedules? Let us worry about it, and just be amazed when you see the finished product.
Leave it to Kirk Douglas Video Productions to plan your next video production project! We are one of the top corporate video companies in Minnesota, having delivered phenomenal results for many businesses like yours. When you work with Kirk Douglas Video Productions, you benefit from proven training and experience. Kirk looks forward to making YOU or YOUR COMPANY the star of your next video production.
To get more information on producing a video or series of videos for your corporation, call 612-804-9503