Using video in your training regimen is a great way to engage new and seasoned employees. Training videos can be used for years to come. But we've all been victims of poorly done training videos that feel outdated, cover too much information, and put us to sleep.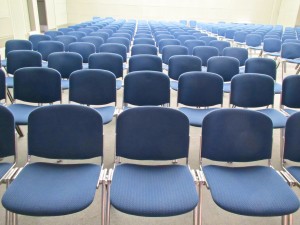 Training videos don't have to be a bore. There are several ways to organize your training content and produce videos that engage your employees while you instruct them.
Decide on a Type of Video
Video is extremely flexible. You can produce a video on-location with actors or with your own employees. You can use animation and screenshots, too. To decide what type of training video is right for your company, you need to consider the content of your training.
Presenter videos. Presenter videos are great for turning an existing in-person training into a video. All that's required is the space, the presenter, and a script for him or her to follow. Adding a slide deck can make a presenter video more engaging.
Demonstration videos. Demonstration videos are perfect for showing a process or explaining how a product works. Use them to train employees in how to use your company's software or demonstrate products to clients.
Animations. Use videos with animation as an alternative to presenter videos. There's no need to hire actors or rent a studio for an animated video. Animated videos are highly engaging, too.
Role-play videos. Role-play videos work well when your training covers interpersonal skills and conflict resolution. Use them to train employees in how to handle tough clients or workplace conflicts.
Consider Your Audience
Once you have decided on the type of video that works best for your training, consider your audience. Plan ahead and organize the information in your videos. If your video is lengthy, consider breaking it down into several shorter videos. If that's not possible, edit your video to eliminate all non-essential information. A shorter, succinct video will hold your audience's attention better.
Mixing up techniques can also make a video more engaging. For example, break up a voiced-over demonstration video with a segment with a presenter or an animation. Use a role-play video within a presenter video.
Videos are great training tools, but good ones require a professional touch. To get help with your next training video, contact Kirk Douglas today.